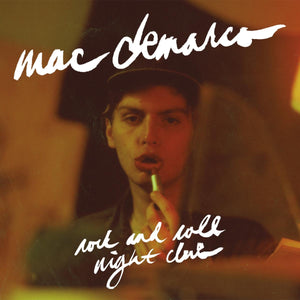 Mac Demarco - Rock And Roll Night Club (10th Anniversary) LP
Tax included.
Shipping
calculated at checkout.
---
---
Before "2" drew the world's eyes to Canadian crooner Mac DeMarco, the spark was heard sooner on the debut EP "Rock and Roll Night Club".

Demarco has been the antithesis to the stereotypical singer-songwriter for the past decade. Disregarding the seriously somber moments on "Rock and Roll Night Club", he refuels throughout with whimsical moments and youthful spontaneity whilst retaining the endearing and subtle commentaries that exude his familiarity.
His most impressive trait is his undeniable and instinctual ability to compose magical pop jangles. His dusted jams have garnished him accolades that are ever increasing alongside his discography; his sound rendering wide comparisons, but in a nomadic fashion, alluding no distinct origin except for Mac himself.
The 10th anniversary pressing of "Rock and Roll Night Club" compiles all 12 original recordings - including bonus tracks Only You and Me and Mine - pressed on limited edition Night Club vinyl, with brand new liners written by DeMarco reflecting on his time writing and recording what would become the world's introduction to one of indie's most influential songwriters.
Tracklist:
1. Rock and Roll Night Club
2. (96.7 The Pipe)
3. Baby's Wearing Blue Jeans
4. One More Tear to Cry
5. European Vegas
6. Only You (Bonus track)
7. (106.2 Breeze FM)
8. She's Really All I Need
9. Moving Like Mike
10. Me and Jon, Hanging On
11. I'm a Man
12. Me and Mine (Bonus track)
About this product: this reissue is pressed on 'Brown and Custard' vinyl. Limited pressing of 500 copies.