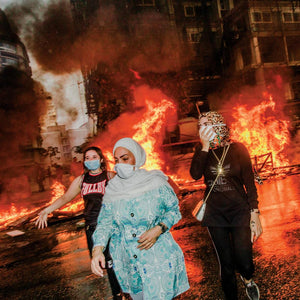 Jerusalem In My Heart - Qalaq LP
Tax included.
Shipping
calculated at checkout.
---
---
One of the most renowned and uncompromising entities working in 21st century avant-garde Arab-Levantine art and music, Jerusalem In My Heart presents a new album of vital and haunting electronics and electroacoustics, framed by founder and producer Radwan Ghazi Moumneh's spoken and sung Arabic, buzuk-playing and sound design.

"Qalaq" is the most distilled, variegated and finely wrought Jerusalem In My Heart album to date – featuring a different guest/collaborator on every track, yet as cohesive, emotionally resonant, sonically adventurous and narratively powerful as any release in JIMH's celebrated discography. Guests across the album's 13 tracks include Moor Mother, Tim Hecker, Lucrecia Dalt, Greg Fox, Beirut, Alanis Obomsawin, Rabih Beaini and many more.
The album is shaped by a "dismantled orchestra" of musical collaborations, forged through long-distance file exchange during lockdown winter 2020-21 (and the inverted companion to JIMH's previous 2018 full-length "Daqa'iq Tudaiq", which featured a 15-piece orchestra recorded live in Beirut). Moumneh initially composed "Qalaq" in purposely stark and skeletal form, then gave each guest artist a section to decompose, edit, re-interpret and recompose as they desired, working their stems back into his own mixes for each piece/section and moulding newfound coherences in the overall work.
The result is the album artwork with a front cover colour photograph by Myriam Boulous capturing a scene during the Beirut October Revolution of 2019, back cover calligraphy by Krystian Sarkis, and inner sleeve photography of the Beirut port explosion aftermath by Tony Elieh further contextualizes the specificity and lamentations of Qalaq; the deep worry at its heart.
Tracklist:
1. Abyad Barraq [feat. Greg Fox]
2. Sa'at [feat. Alexei Perry Cox]
3. Istashraqtaq [feat. Beirut]
4. Tanto [feat. Lucrecia Dalt]
5. 'Ana Lisan Wahad [feat. Farida Amadou and Pierre-Guy Blanchard]
6. Qalaq 1 [feat. Alanis Obomsawin and Diana Combo]
7. Qalaq 2 [feat. Roger Tellier-Craig]
8. Qalaq 3 [feat. Moor Mother]
9. Qalaq 4 [feat. Rabih Beaini]
10. Qalaq 5 [feat. Oiseaux-Tempête]
11. Qalaq 6 [feat. VIZ]
12. Qalaq 7 [feat. Tim Hecker]
13. Qalaq 9 [feat. Mayss, Mazen Kerbaj, Sharif Sehnaoui and Raed Yassin]

About this product: this is pressed on 180g black vinyl. Includes a 9"x36" fold-out poetry insert and a download code.