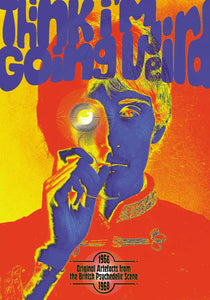 Various Artists - Think I'm Going Weird: Original Artefacts From The British Psychedelic Scene1966-68 5CD BOOK
Tax included.
Shipping
calculated at checkout.
---
---
Grapefruit's landmark 100th release. A definitive overview of the British psychedelic scene, an epic five-CD / book set that includes more than 50-minutes of previously unreleased music from the halcyon period 1966-68.

Including the major acts of the era (The Who, Traffic, Small Faces, The Move, Procol Harum, Incredible String Band, Family, Crazy World of Arthur Brown etc), "Think I'm Going Weird: Original Artefacts From The British Psychedelic Scene 1966-68" features many bands who also played London's underground dungeons during the Summer Of Love.
Featuring studio demos from the likes of Tintern Abbey, The Soft Machine, Mabel Greer's Toyshop, Genesis, Mandrake Paddle Steamer, Dantalian's Chariot and others plus numerous cult 45s (July, Caleb, Vamp, Blossom Toes, Sweet Feeling, etc) and fascinating album cuts from such scene stalwarts as Tomorrow, Fairport Convention, Kaleidoscope, The Deviants and Elmer Gantry's Velvet Opera.
Perhaps most enticingly of all, the collection includes a number of hitherto-unknown recordings by bands who are only now gaining their first public exposure including Eyes Of Blond, Tinsel Arcade, Crystal Ship (whose contribution features lyrics from Pete Brown) and the semi-mythical 117, such a legendary name from the era's handbills and posters that they even had a UK psych fanzine named after them in the '90s.
A dazzling feat of licensing and research, "Think I'm Going Weird…" comes in a 60-page A5 book format with 25,000-word track-by-track annotation with some extraordinary and rare photos and memorabilia. For anyone even remotely interested in British psychedelia, it's simply an essential purchase.