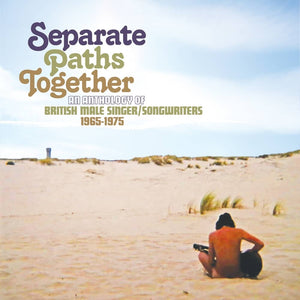 Various Artists - Separate Paths Together: An Anthology Of British Male Singer/Songwriters 1965-1975 3CD
Tax included.
Shipping
calculated at checkout.
---
---
"Separate Paths Together" provides a wide-ranging, four-hour overview of the pop stars, the club folkies, the rock band refugees, the stoned poets, the political agitators, the wry humorists and the bedsit bards that came together to make up a vibrant, multifaceted scene.

As this anthology proves beyond any doubt, the singer / songwriter branch of the Sixties/Seventies rock family tree was rather more eclectic than received wisdom might suggest, housing such disparate bedfellows as Peter Hammill and Gilbert O'Sullivan, Kevin Ayers and Peter Skellern, Richard Thompson and Leo Sayer.
In addition to the above names, it features key figures from the scene as Al Stewart, Donovan, Ralph McTell, Michael Chapman, John Martyn, Bert Jansch and Gerry Rafferty while also exploring the roads less travelled with a host of more obscure, collector-friendly acts.
With a dazzling array of hit singles, key album tracks, cult favourites, buried treasure and glorious one-offs, "Separate Paths Together" recalls a lost era via tales of love and pain, of childhood memories and adult disillusionment, of beautiful strangers and family men, and, perhaps most poignantly of all, of time past and time passing.