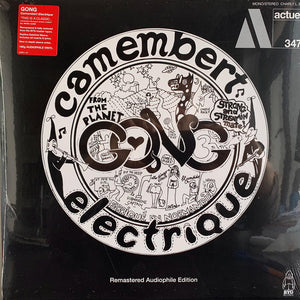 Gong - Camembert Electrique LP
Tax included.
Shipping
calculated at checkout.
---
---
This wild sophomore LP was recorded during full moons of May, & June & September, 1971 at Strawberry Studios ("Honky Chateau") Herrouville, Normandy, France. Originally released in France during October 1971 by BYG Records.
Tracklist:
1. Radio Gnome
2. You Can't Kill Me
3. I've Bin Stone Before / Mister Long Shanks / O Mother
4. I am Your Fantasy
5. Dynamite / I am Your Animal
6. Wet Cheese Delirium
7. Squeezing Sponges Over Policemen's Heads
8. Fohat Digs Holes in Space
9. Tried So Hard
10. Tropical Fish / Selene
11. Gnome the Second
About this product: this audiophile reissue is pressed on 180g black vinyl, housed in a replica of the original gatefold cover with 4 LP-sized inserts including new liner notes, credits, lyrics and a Charly Records advertising sheet.

Both sides of the vinyl end in a locked groove.