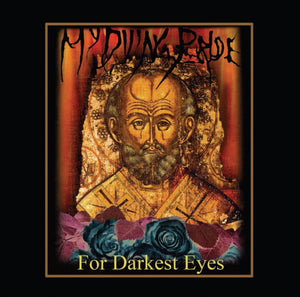 My Dying Bride - For Darkest Eyes CD+DVD
Tax included.
Shipping
calculated at checkout.
---
---
My Dying Bride has been the leading light of doom metal since the debut album "As the Flower Withers" was released on Peaceville Records back in 1992. Influenced by acts such as Celtic Frost and Candlemass, the British band's heavy atmospherics have carved a huge worldwide following over the years to stand as one of the true enduring and distinguishable pillars of the genre.

"For Darkest Eyes" contains the band's iconic 1996 performance from Krakow, Poland, featuring numerous classic doom anthems from the early career of the UK Metal Gods. The show was filmed as the band was riding a wave of popularity due to their recent breakthrough third album, "The Angel and the Dark River" (plus their tour with British metal legends Iron Maiden in the winter of 1995), showcasing several tracks from that release such as The Cry of Mankind and Your Shameful Heaven, as well as renditions of other established numbers such as The Crown of Sympathy and The Forever People.
The DVD includes additional footage from several early shows from 1992 and 1993, as well as an appearance at the Dynamo Festival from 1995 plus six promo videos.
Tracklist:
1. A Sea to Suffer In
2. The Songless Bird
3. The Crown of Sympathy
4. The Thrash of Naked Limbs
5. The Cry of Mankind
6. Your River
7. Black Voyage
8. Your Shameful Heaven
9. From Darkest Skies
10. The Forever People