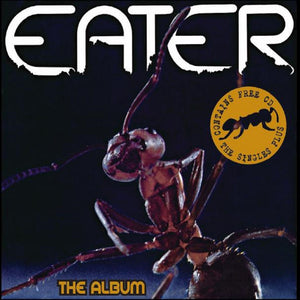 Eater - The Album 2CD
Tax included.
Shipping
calculated at checkout.
---
---
Formed in early stages of the British punk explosion by four high school mates in Finchley, north London, Eater quickly established themselves as one of the youngest and rawest bands on the scene.

Lead singer Ashruf Radwan had an Egyptian heritage, hidden by his alias, Andy Blade, and guitarist Brian Haddock became Brian Chevette once in the fold; Ashruf's brother Lutfi was the group's first drummer, joining under the name Social Demise, but was soon replaced by Roger Bullen, playing under the moniker Dee Generate, while future Vibrator Ian Woodcock was the resident bassist from their second gig.
Inspired by a line in the T Rex song, Suneye, Eater was influenced by the classier side of glam rock but was very much a rapid-fire power-punk concern with their own output. Headlining spots at the Roxy club alongside The Damned, The Lurkers and Sham 69 solidified their reputation, especially once their material made it onto the live compilation album issued by Harvest in 1977, and after footage of their appearances at the club were included in Don Letts' Punk Rock Movie.
Signing to Dave Goodman's fledgling punk imprint, The Label, Eater issued three singles before their greatly anticipated debut album (which surfaced after future Slaughter and the Dogs member Phil Rowland joined on drums), that has since been hailed as an all-time classic; pointing their fingers at upper-class twits on songs like Lock It Up and taking the piss out of themselves and their fans on No Brains, the album also features two Velvet Underground covers and an unusual David Bowie adaptation, all delivered in no-holds-barred triple time.