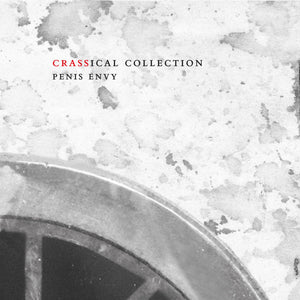 Crass - Penis Envy (Crassical Collection) 2CD
Tax included.
Shipping
calculated at checkout.
---
---
"Penis Envy", number three in the revisited Crassical Collection is a double CD presentation containing the 2009 remastered original Crass album on CD1 and, on CD2, additional related tracks mastered in 2018 at Abbey Road Studios and largely featuring Eve Libertine in a variety of guises.
There is also the added bonus of creating an enlarged Crass logo when owning the complete set.

Tracklist:
1. Bata Motel
2. Systematic Death
3. What the Fuck?
4. Where Next Colombus?
5. Berkertex Bribe
6. Smother Love
7. Health Surface
8. Dry Weather
9. Our Wedding
10. Yorkie Talk
12. Yes, Folks
13. The Unelected President

About this product: this 2CD comes in a digiwallet which is housed in a carboard case that includes a 64-page booklet of lyrics/notes/photos/art and a fold-out poster of the original cover.