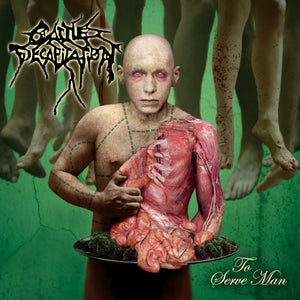 Cattle Decapitation - To Serve Man LP
Tax included.
Shipping
calculated at checkout.
---
---
The third full length release from Cattle Decapitation, and the band's 2002 debut release. Looking back 20 years, "To Serve Man" was a massive priority release for Metal Blade.
Exclaim! (magazine) wrote that the band "has entered the upper realm of gore-grinders," with "To Serve Man". The album has gone on to sell almost 20,000 albums in the US alone and upwards of 40,000 worldwide. 
"To Serve Man" set the stage for Cattle Decapitation to become one of the most successful and respected bands in the genre.
2022 catalog vinyl repressings, mastered by Dave Otero (Khemmis, Cephalic Carnage, Cattle Decapitation, Allegaeon and more).
Tracklist:
1. Testicular Manslaughter
2. I Eat Your Skin
3. Writhe in Putressence
4. Land of the Severed Meatus
5. The Regurgitation of Corpses
6. Everyone Deserves to Die
7. To Serve Man
8. Colonic Villus Biopsy Performed on the Gastro-intestinally Incapable
9. Pedeadstrians
10. Long-Pig Chef and the Hairless Goat
11. Hypogastric Combustion by C-4 Plastique
12. Deadmeal
13. Chunk Blower
About this product: this reissue is pressed on 180g black vinyl, housed in a gatefold sleeve. Includes a poster and a download code.