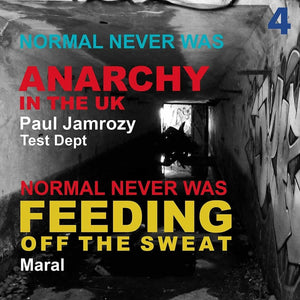 Crass - Normal Never Was IV 12"
Tax included.
Shipping
calculated at checkout.
---
---
As part of their ambitious 'The Feeding of the Five Thousand Remix Project', punk pioneers Crass return with another exclusive coloured 12" single featuring remixes by industrialists Test Dept and LA based artist Maral.

Late last year Crass took the step of making the original separate track stems of their seminal debut album "The Feeding of the Five Thousand" available as a free download. With a call to take the original sixteen track recording in its pre-mix state, the intent was for people to create their own remixes and interpretations and breathe fresh life and ideas into this revolutionary music.
First released in 1978, "The Feeding of the Five Thousand" pre-empted rap and grime in its hard-on-the-beat, fast fire, uncompromising lyrics and the iconic sounds and messages are ripe for reinterpretation. Crass encouraged people to rip apart the sound and ideas and create something new, then send the files to Crass Records for future releases and charitable projects.
The message is DIY like it never was before. "Yours for the taking, yours for the making," Crass said.
Tracklist:
1. Anarchy in the UK (Test Dept Remix)
2. Feeding Off the Sweat (Maral Remix)
About this product: this single is pressed on 12" blue vinyl.