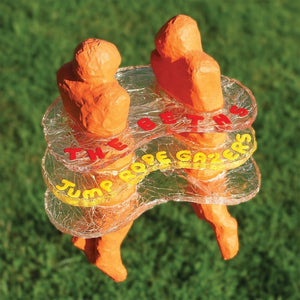 The Beths - Jump Rope Gazers LP
Tax included.
Shipping
calculated at checkout.
---
---
The Beths return with their second album and what a bundle of emotion and rousing indie anthems it is. Another golden nugget and another album you will fall in love with instantly.
Songwriter and lead vocalist Elizabeth Stokes worked on what would become The Beths' second LP, "Jump Rope Gazers", in between these intense periods of touring. Like the group's earlier music, the album tackles themes of anxiety and self-doubt with effervescent power pop choruses and rousing backup vocals, zeroing in on the communality and catharsis that can come from sharing stressful situations with some of your best friends. Stokes's writing on "Jump Rope Gazers" grapples with the uneasy proposition of leaving everything and everyone you know behind on another continent, chasing your dreams while struggling to stay close with loved ones back home.

With songs like the rambunctious Dying To Believe and the tender, shoegazey Out of Sight, The Beths reckon with the distance that life necessarily drives between people over time. People who love each other inevitably fail each other. "I'm sorry for the way that I can't hold conversations / They're such a fragile thing to try to support the weight of," Stokes sings on Dying to Believe. The best way to repair that failure, in The Beths' view, is with abundant and unconditional love, no matter how far it has to travel. On Out of Sight, she pledges devotion to a dearly missed friend: "If your world collapses / I'll be down in the rubble/I'd build you another," she sings.

"It was a rough year in general, and I found myself saying the words, 'wish you were here, wish I was there,' over and over again," she says of the time period in which the album was written.
Touring far from home, The Beths committed themselves to taking care of each other as they were trying at the same time to take care of friends living thousands of miles away. They encouraged each other to communicate whenever things got hard, and to pay forward acts of kindness whenever they could. That care and attention shines through on "Jump Rope Gazers", where the quartet sounds more locked in than ever. Their most emotive and heartfelt work to date, "Jump Rope Gazers" stares down all the hard parts of living in communion with other people, even at a distance, while celebrating the ferocious joy that makes it all worth it - a sentiment we need now more than ever.
About this product: this release is pressed on clear vinyl.