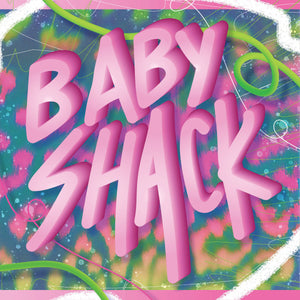 Panic Shack - Baby Shack 12" EP
Tax included.
Shipping
calculated at checkout.
---
---
Comprised of Sarah Harvey (vocals), Meg Fretwell (guitar/backing vocals), Romi Lawrence (guitar/backing vocals), Em Smith (bass) and Ed Barker (drums), the band were officially formed in late 2018 as an affront to how music can feel like a 'members-only club' at the best of times, a phallocracy at the worst. They've since built a word-of-mouth following for their frenetic live show with barely a shred of music available online.

It's that sense of inclusiveness that permeates everything Panic Shack do: a band writing killer, off-kilter songs whose guitarists could barely play four chords a year ago having dusted off guitars from the attic; who got started covering Dead or Alive and Stealers Wheel from Googled tabs. It's the kind of trajectory you could compare to a modern Young Marble Giants or ESG, but those bands rarely sounded this fun or alive.
You could say there's no-one out there doing this right now, but that would probably defeat the point.
The EP presents the band's first singles Who's Got My Lighter?, Jiu Jits You and I Don't Really Like It alongside brand new material, Mannequin Man, Baby and The Ick.
Tracklist:
1. I Don't Really Like It
2. Baby
3. Jiu Jits-You
4. The Ick
5. Mannequin Man
6. Who's Got My Lighter?
About this product: this EP is pressed on 12" pink splatter vinyl.