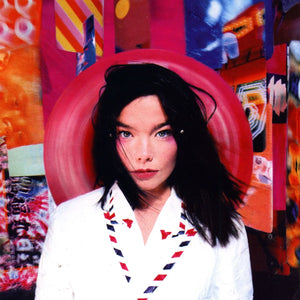 Björk - Post CD
Tax included.
Shipping
calculated at checkout.
---
---
After the success of "Debut", the pressure was on Björk to surpass that album's creative, tantalizing electronic pop. She more than delivered with 1995's "Post"; from the menacing, industrial-tinged opener, Army of Me, it's clear that this album is not simply "Debut" redux.
The songs' production and arrangements - especially those of the epic, modern fairy tale Isobel - all aim for, and accomplish, more. "Post" also features "Debut" producer Nellee Hooper, 808 State's Graham Massey, Howie B, and Tricky, who help Bjork incorporate a spectrum of electronic and orchestral styles into songs like Hyperballad, which sounds like a love song penned by Aphex Twin.
Meanwhile, the bristling beats on the volatile, sensual Enjoy and the fragile, weightless ballad Possibly Maybe nod to trip-hop without being overwhelmed by it.
Tracklist:
1. Army of Me
2. Hyper-ballad
3. The Modern Things
4. It's Oh So Quiet
5. Enjoy
6. You've Been Flirting Again
7. Isobel
8. Possibly Maybe
9. I Miss You
10. Cover Me
11. Headphones
About this product: this CD is housed in a jewelcase.