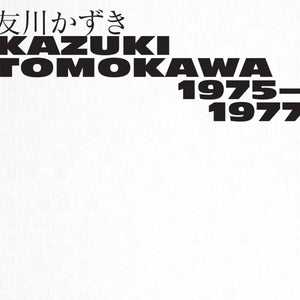 Kazuki Tomokawa - Kazuki Tomokawa 1975-1977 3CD
Tax included.
Shipping
calculated at checkout.
---
---
Blank Forms Editions gathers Tomokawa's earliest records for the first time in a deluxe three CD boxed set comprised of "Finally, His First Album" (Harvest Records, 1975), "Straight from the Throat" (Harvest Records, 1976), and "A String of Paper Cranes Clenched Between My Teeth" (Harvest Records, 1977).

In each record, Tomokawa shouts, cries, wails, and croons, his folk stylings tinged with psychedelia and swelling into ground-shaking rock. Many tracks are performed in his native Akita dialect, a highly regional vernacular of north Japan rarely heard beyond the prefecture, and even less often used in music. Matching his guttural, all-out vocals are profoundly existential meditations on everyday life and the world around him; this is, as record executive Kiichi Takara dubs it, "I-music." It looks toward the interior, the quotidian, and the domestic with piercing and ever-honest eyes.
The accompanying liner notes (here translated for the first time) include introductions by Takara, a round table discussion with Brain Police, and lyrics for all three albums—tracking the rise of Tomokawa as the "screaming philosopher" of Japan. The boxed set will be in conjunction with the release of each record in LP format, and the musician's 2015 memoir, "Try Saying You're Alive!".
About this product: this 3CD package is housed by slim individual sleeves, held inside a deluxe slip box.