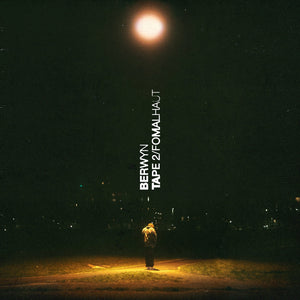 Berwyn - Tape 2/Fomalhaut LP
Tax included.
Shipping
calculated at checkout.
---
---
Following from his moving debut mixtape "Demotape / Vega", Trinidad-born, Romford-raised rapper Berwyn returns with the second instalment, "Tape 2 / Fomalhaut". 

Documenting his experiences in an East London, Mike Skinner-style spoken word delivery, Berwyn uses raw lyricism to lay out his emotions and his tales of loneliness, life's uncertainties and the need for love.
Side by side, both projects create an in-depth and eventful piece of autobiographical music that pulls the listener into moments of drawn-out turmoil, at times revealing small cracks of blissful resolution. Berwyn proves to be unafraid to lay his truths out for us for a compelling listen you'll be locked into from start to finish.

Tracklist:
1. Wrong Ones
2. I'd Rather Die Than Be Deported
3. Rubber Bands
4. 100,000,000
5. Snakes on My Nokia
6. To Be Loved
7. Full Moon Freestyle
8. Money Comes Money Goes
9. Teddy's Joint (Chords to Make You Cry)
10. Vinyl
11. Answers
About this product: this release is pressed on yellow vinyl, stereo mix.