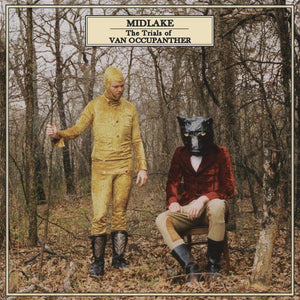 Midlake - The Trials of Van Occupanther LP
Tax included.
Shipping
calculated at checkout.
---
---
Midlake's second album, "The Trials of Van Occupanther", jumps with both feet into the '70s of Laurel Canyon troubadours and soft rock balladeers. It jumps like Bob Beamon right past any other current bands treading similar ground and jumps back into time, becoming one of the best examples of the sound and style you'll ever hear, date of release notwithstanding.

The first thing you notice on the album is the stunning vocal harmonies; you might think you dropped in an America disc by mistake. (The best record America ever did, that is.) Tim Smith has the kind of voice you know could be a glass-shattering instrument on par with that of Buckley or Wainwright, but he keeps it dialled down to an intimate scale, which is a wise decision.
His vocals bleed melancholy honesty, and the way it combines with Eric Pulido's voice will raise goose bumps. The arrangements provide a perfect bed for the vocals, with cottony layers of acoustic guitars and strings, gentle horns, restrained drums, and lyrical piano combining beautifully. The occasional surprises are effective, especially when they use some of the corniest synth sounds heard since Jan Hammer unstrapped his keytar for the last time, on We Gathered in Spring and It Covers the Hillside. All of which is nice but isn't worth much without songs.
Fortunately, Midlake writes unerringly tuneful melodies and thoughtful lyrics about topics other than love and introspection, and lays down plenty of gentle hooks. Nothing that you'll be singing in the shower for days at a time, but each song goes down smoothly and they add up to make "The Trials of Van Occupanther" a very pleasant, maybe even exciting in a restrained way, listening experience. You'll certainly find yourself reaching for it more often than you might expect; indeed, it has lasting power that many records that sound so good on first listen lack.
Midlake might be stuck in the '70s, but they make it sound like the best place on earth.
Released on 180g gold vinyl to celebrate a new Midlake album for 2022 and also the 15th anniversary of "The Trials of Van Occupanther" last year.
Tracklist:
1. Roscoe
2. Bandits
3. Head Home
4. Van Occupanther
5. Young Bride
6. Branches
7. In This Camp
8. We Gathered in Spring
9. It Covers the Hillsides
10. Chasing After Deer
11. You Never Arrived

About this product: this reissue is pressed on 180g gold vinyl. Includes a download code.