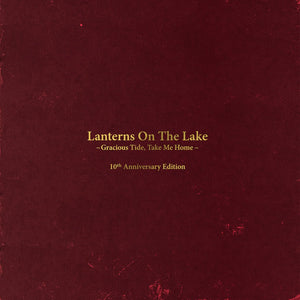 Lanterns On The Lake - Gracious Tide, Take Me Home 2LP
Tax included.
Shipping
calculated at checkout.
---
---
Following last year's Mercury nominated "Spook The Herd" album, Lanterns On The Lake release a deluxe 10th Anniversary reissue of their acclaimed debut album, "Gracious Tide, Take Me Home". The band's much-loved debut has been meticulously remastered at Abbey Road studios and comes with five previously unreleased tracks recorded during the original sessions.

There's always been a compelling drama to Lanterns On The Lake; the way the opening track 'Lungs Quicken' shifts from dreamy restraint to a full-blown crescendo indicated the true power at their fingertips. Lanterns On The Lake formed in 2008 combining a group of friends who had all played in various bands on the local music scene.
Fusing the most fragile and graceful end of the folk music spectrum to the most luminous properties of cinemascope rock, "Gracious Tide, Take Me Home" used a smorgasbord of instruments (guitars, violin, mandolin, piano, synths, glockenspiels, even a kalimba) to paint a variety of beautiful vistas, from the ambient Ships in the Rain to the galloping A Kingdom, from the six-minute layers of The Places We Call Home to the skeletal 73-second finale Not Going Back to the Harbour.
There might be a vein of sadness through this music - Ships in the Rain was inspired by a local fisherman who went missing at sea, and A Kingdom was inspired by the book letters sent home by WW2 soldiers – but there is just as much hope in Keep on Trying and You're Almost There, where fear and insecurities are banished by self-belief; 'the feeling that you're going places' as Hazel says. Mirroring the sentiment of the album title, I Love You, Sleepyhead and Places We Call Home draw on the comfort and security of home, friendship and memory.
Tracklist:
1. Lungs Quicken
2. I've Been Unkind
3. Keep on Trying
4. Ships in the Rain
5. A Kingdom
6. The Places We Call Home
7. Blanket of Leaves
8. Tricks
9. You're Almost There
10. I Love You Sleepyhead
11. Not Going Back to the Harbour
About this product: this is the Indie Exclusive 10th Anniversary reissue pressed on 2x 140g black vinyl, housed in a gatefold sleeve with gold foil print. Includes a download code.