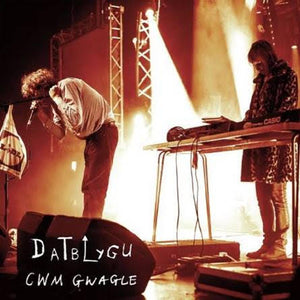 Datblygu - Cwm Gwagle LP
Tax included.
Shipping
calculated at checkout.
---
---
'Datblygu have only one thing in common with other Welsh bands and that is their shared use of the language, nothing else. Datblygu's only message is a hope that you don't choke whilst dancing and coughing in the ruins.'

- David R.Edwards, June 2020.
'Cwm Gwagle' ('Void Valley') is the new Datblygu album created by David R. Edwards and Patricia Morgan and released by Ankst Musik Records this summer. It will be available initially as a limited edition physical 12'' album (with bonus download material) in independent record stores before appearing on streaming and download sites two weeks later. This new collection follows on from the 2015 collection "Porwr Trallod" ("Tribulation Browser"), a Welsh Music Prize album of the Year nominee and a triumphant return for the band after a hiatus of nearly two decades.
Datblygu's cultural impact and artistic legacy is already assured, recognised as trailblazing pioneers with their extraordinary back catalogue, which includes the imperishable trilogy of albums "Wyau" (1988), "Pyst" (1990) and "Libertino" (1993) and their fruitful relationship with the late John Peel. They are the band who have rightly been held up as 'The Welsh Gospel' (according to no less a fellow pioneer than Super Furry Animals frontman Gruff Rhys) and the appearance of the extraordinary poetic visions collected in the grooves of "Cwm Gwagle" proves that they are still fearlessly leading from the front. 
Recorded over a weekend mere weeks before the great lockdown with Cardiff producer Frank Naughton there seems to be a whole alternative universe conjured up here for our delight. Songs work as signposts on our journey through this far from green and pleasant valley. Some of the tales are humorous (of the dark kind!) others are seemingly personal recollections built from real painful memories (Cariad Ceredigion), whilst others are pure fabula (Ffon Bagal Dyffryn Cwnin), surreal fictions that couldn't possibly have occurred (or could they?). Some tracks exist as pure attitude and primal disgust (Cymryd y Cyfan) next to quiet laments for lost causes and dreams that are in David's own words, up against - Ugly Hymns from St Fag-end - and sometimes all we have is a single voice fighting to be heard over the wailing sirens in the street (1 2 3 Dim Byd).
They may share the language with other bands from Wales but they sure don't use it in the same way. David's lyrics have developed and simplified over the years and are digging much deeper into the world of pure poetic imagery, creating vision, sounds and rhythms that hit hard and so also has the music being  provided by Patricia Morgan – no waste, no diversions, only structure, atmosphere, feelings and support telepathically woven into the music. Very little of what you hear here owes its existence to anyone else, it is for us, from Dave and Pat, but always at a price, as Dave gnomically warns on Y Coleg Abnormal - 'as the grass is always greener on the dark side of the moon / don't end up penniless, heaving blood into the spittoon'.
So in 2020 as the world wobbles we have a new Datblygu album to enjoy and treasure, one that is stuffed with poetic brilliance, like the skewering of optimism revealed in my choice for the chorus of the year, 2020 defined: 'Un, Dau, Tri - Dim Byd'.
Tracklist:
1. Cariad Ceredigion
2. A i Z
3. Okay, Ie
4. Y Coleg Abnormal
5. Ffon Bagal Dyffryn Cwnin
6. Nid Pen i'r Afon
7. 1 2 3 Dim Byd
8. Cymryd y Cyfan
9. Unrhyw Hen Borthmadog
10. Y Purdeb Noeth
11. Bwrlwm Bro
About this product: this is pressed on standard black vinyl, comes with a download code (includes a bonus track Y Purdeb Noeth (Yn fyw/Live Pontio, Bangor 2017)).