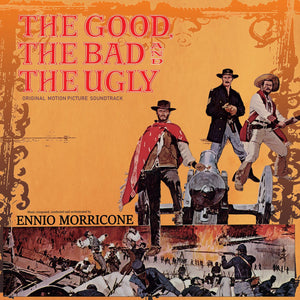 Ennio Morricone - The Good, The Bad And The Ugly LP
Tax included.
Shipping
calculated at checkout.
---
---
"The Good, the Bad and the Ugly" (1966) is neither more nor less than the perfect soundtrack to the most wonderful of western movies, the third and final act of the "Dollar Trilogy" directed by Sergio Leone.

A film not only rated among the best of the genre, but universally considered among the most successful in the history of cinema. The Maestro Ennio Morricone has here been able to be as meticulous as his friend director, composing a soundtrack that fits brilliantly to the bombastic and epic atmospheres of the film.
In addition to the main theme, played by different instruments according to the character shown on the screen, it's totally impossible to forget the great finale, the immense closure of an unparalleled masterpiece brought by L'estasi dell'oro (The Ecstasy of Gold) and Il triello.
Nothing less than a masterpiece.
Tracklist:
1. Il Buono, Il Cattivo, Il Brutto (The Good, The Bad And The Ugly)
2. Il Tramonto (The Sundown)
3. Fuga A Cavallo 
4. Il Ponte Di Corde
5. Il Forte (The Strong)
6. Il Deserto (The Desert)
7. La Carrozza Dei Fantasmi (The Carriage of the Spirits)
8. La Missione San Antonio
9. Padre Ramirez
10. Marcetta (Marcia)
11. La Storia Di Un Soldato (The Story of a Soldier)
12. Fine Di Una Spia 
13. Marcetta Senza Speranza (Marcia's Without Hope)
14. Morte Di Un Soldato (The Death of a Soldier)
15. L'Estasi Dell'Oro (The Ecstasy of Gold)
16. Il Triello (The Trio)