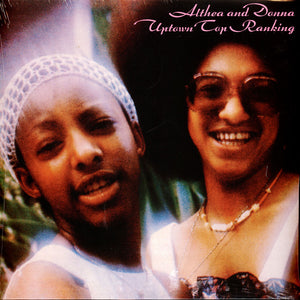 Althea And Donna - Uptown Top Ranking LP
Tax included.
Shipping
calculated at checkout.
---
---
The Joe Gibbs produced "Uptown Top Ranking" is a classic song by Althea and Donna which was a big hit in 1977. Althea and Donna helped blaze the trail for other female artists in the genre.

Althea Forrest and Donna Reid were 17 and 18 respectively when the song was bubbling on the charts. This album reissue is full of the style from the golden age of reggae.
Musicians like Sly and Robbie, Earl 'Chinna' Smith, Bernard 'Touter' Harvey, Scully, Tommy Mccook, Vin Gordon and Herman Marquis provide the crucial instrumental journey. It captures the weekend style, philosophy and mating habits of a generation of West Indian teens, creating a snapshot as charmingly naive and culturally valuable as the Beach Boys' depictions of Californian surf culture.
Produced and engineered with Karl Pitterson at the controls.
Tracklist:
1. No More Fighting
2. Jah Rastafari
3. Make a Truce
4. Oh Dread
5. Uptown Top Ranking
6. The West
7. Jah Music
8. If You Don't Love Jah
9. Sorry
10. They Wanna Just
About this product: this reissue is pressed on black vinyl.