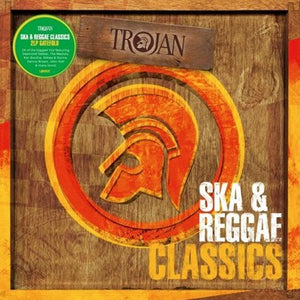 Various Artists - Ska & Reggae Classics 2LP
Tax included.
Shipping
calculated at checkout.
---
---
Tracklist:
1. Israelites [Desmond Dekker & The Aces]
2. Double Barrel [Dave & Ansel Collins]
3. Monkey Man [The Maytals]
4. Liquidator [Harry J Allstars]
5. Long Shot Kick De Bucket [The Pioneers]
6. Return of Django [The Upsetters]
7. The Tide is High [The Paragons]
8. It Mek [Desmond Dekker & The Aces]
9. Red Red Wine [Tony Tribe]
10. 007 (Shanty Town) [Desmond Dekker & The Aces]
11. Monkey Spanner [Dave & Ansil Collins]
12. 54-46 was My Number [The Maytals]
13. Everything I Own [Ken Boothe]
14. Money in My Pocket [Dennis Brown]
15. Help Me Make it Through the Night [John Holt]
16. Hurt So Good [Susan Cadogan]
17. Let Your Yeah be Yeah [The Pioneers]
18. Girlie Girlie [Sophia George]
19. Uptown Top Ranking [Althea & Donna]
20. You Can Get it if You Really Want [Desmond Dekker]
21. Young, Gifted and Black [Bob & Marcia]
22. Black and White [Greyhound]
23. Love of the Common People [Nicky Thomas]
24. OK Fred [Errol Dunkley]
About this product: this compilation is pressed on 2x 180g vinyl and housed in gatefold packaging.