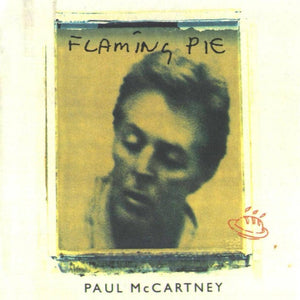 Paul McCartney - Flaming Pie 2CD/3LP
Tax included.
Shipping
calculated at checkout.
---
---
Tracklist:
- REMASTERED ALBUM -
1. The Song You Were Singing
2. The World Tonight
3. If You Wanna
4. Somedays
5. Young Boy
6. Calico Skies
7. Flaming Pie
8. Heaven on a Sunday
9. Used to be Bad
10. Souvenir
11. Little Willow
12. Really Love You
13. Beautiful Night
14. Great Day

- HOME RECORDINGS -
1. The Song You Were Singing (Home Recording)
2. The World Tonight (Home Recording)
3. If You Wanna (Home Recording)
4. Somedays (Home Recording)
5. Young Boy (Home Recording)
6. Calico Skies (Home Recording)
7. Flaming Pie(Home Recording)
10. Souvenir (Home Recording)
11. Little Willow (Home Recording)
13. Beautiful Night (Home Recording)
14. Great Day (Home Recording)

- CD ONLY EXTRAS -
1. Beautiful Night (Run Through)
2. Whole Life (Rough Mix)
3. Heaven on a Sunday (Rude Cassette)
4. Great Day (Acoustic)
5. Calico Skies (Acoustic)
6. C'mon Down C'mon Baby
7. Looking for You
8. Broomstick
9. Love Come Tumbling Down
10. Same Love
About this product: the half-speed remastered album appears in a gatefold sleeve with bespoke black card inner sleeves and includes an A5 booklet and 'certificate' with information on the half-speed mastering process. The home recordings LP appears in a non-gatefold sleeve with a bespoke red card inner sleeve and insert with the tracklisting, as well as a sticker applied to the back cover with copyright information. There is an outer slipcase with a paper slip (similar to a Japanese "obi") which wraps around the spine.