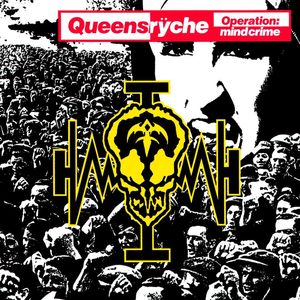 Queensrÿche - Operation: Mindcrime 2CD/2LP
Tax included.
Shipping
calculated at checkout.
---
---
"Operation: Mindcrime" is regarded as one of the greatest concept metal albums of all time. The band's third album, originally released May 3rd 1988, is based around Nikki, a recovering drug addict, who becomes disillusioned with a corrupt society and joins a revolutionary group to assassinate political leaders.

It was produced by Peter Collins (Bon Jovi, Rush, Alice Cooper) and was recorded, mixed and mastered digitally on a Sony 24-track digital tape machine. It was certified platinum in 1991 in the US and was ranked in the Top 100 Metal Albums Of All Time by both Kerrang! and Billboard magazines.
Tracklist:
1. I Remember Now
2. Anarchy-X
3. Revolution Calling
4. Operation: Mindcrime
5. Speak
6. Spreading the Disease
7. The Mission
8. Suite Sister Mary
9. The Needle Lies
10. Electric Requiem
11. Breaking the Silence
12. I Don't Believe in Love
13. Waiting for 22
14. My Empty Room
15. Eyes of a Stranger

About this product: this is available on 2CD and 2LP formats.
The 2CD comes with bonus tracks, extended versions and b-sides.
The 2LP is pressed on black vinyl.