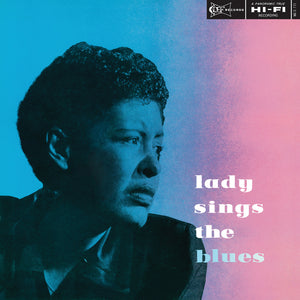 Billie Holiday - Lady Sings The Blues LP+CD
Tax included.
Shipping
calculated at checkout.
---
---
Some Holiday fans embrace the very weariness and faults of her late recordings that others find heartbreaking and disappointing. These sessions from 1955 and 1956 clearly show the results of a life marked by alcohol and drug abuse, horrific love affairs and racism.

On such cuts as Too Marvelous for Words, the contrast between the lyrics and Holiday's heavy-heartedness is disconcerting, but the juxtaposition works on I Must Have That Man, where Holiday's interpretations seem to be saying that even good love is tragic. The lynching depicted in Strange Fruit is certainly made even more powerful and harrowing by her slow, wrenching delivery.
When the album came out, there was a concert at New York City's Carnegie Hall on 10 November 1956 featuring much of this material along with readings from her autobiography. It was a sellout and despite the limitations with Billie's voice she delivered a superb performance.
In 1959, Holiday would die with 70 cents in her bank account. "Lady Sings the Blues" is the soundtrack for those final, troubled years.
Tracklist:
1. Lady Sings the Blues
2. Trav'lin' Light
3. I Must Have That Man
4. Some Other Spring
5. Strange Fruit
6. No Good Man
7. God Bless the Child
8. Good Morning Heartache
9. Love Me or Leave Me
10. Too Marvelous for Words
11. Willow Weep for Me
12. I Thought About You
About this product: this vinyl LP comes with a CD.