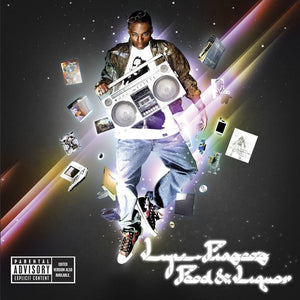 Lupe Fiasco - Lupe Fiasco's Food & Liquor 2LP
Tax included.
Shipping
calculated at checkout.
---
---
It is not easy being a best kept secret, especially for an artist who has so much to say. It has to be just as hard when one of hip-hop's greatest and most respected MC's tells one of the most powerful record executives in the world that the talents of the person he's representing are similar to his own five years ago. That's exactly what rap legend and current president of Def Jam Records, Jay-Z, told then Arista records CEO L.A. Reid in a meeting back in 2002 about hot newcomer - Lupe Fiasco.

The 23 year-old Chicago native, who has been highly regarded and coveted by many top-level executives and industry insiders for the past three years, has remained relatively unknown in the public eye. Until now!
With the release of his atlantic records debut, "Food and Liquor", Lupe Fiasco is sure to take the entire music industry by storm. Laced with 14-tracks of complex, thought-provoking and playful lyricism coupled with sure-fire beats, "Food and Liquor" features production by the likes of Nottz, Needles, the Buchanans, Mike Shinoda of Linkin Park, not to mention 1st and 15th producers Soundtrakk and pro. guest artists include, amongst others, Jay-Z, Jill Scott and Gemini.
Tracklist:
1. Intro
2. Real [feat. Sarah Green]
3. Just Might Be OK [feat. Gemini]
4. Kick, Push
5. I Gotcha
6. The Instrumental [feat. Jonah Matranga]
7. He Say She Say [feat. Gemini and Sarah Green]
8. Sunshine
9. Daydreamin' [feat. Jill Scott]
10. The Cool
11. Hurt Me Soul
12. Pressure [feat. Jay-Z]
13. American Terrorist [feat. Matthew Santos]
14. The Emperor's Soundtrack
15. Kick, Push II
16. Outro
About this product: this reissue is pressed on 2x clear vinyl.