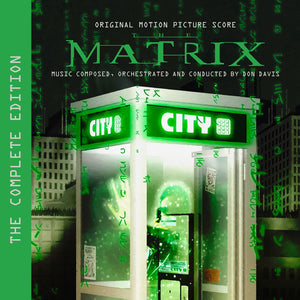 Don Davis - The Matrix: The Complete Edition 3LP
Tax included.
Shipping
calculated at checkout.
---
---
Varèse Sarabande Records proudly announces a vinyl release of The Matrix: The Complete Edition.

This handsome 3LP collection includes all of the music from the legendary 1999 film, plus an exclusive interview with composer Don Davis, who scored the blockbuster release. The 44-track album is housed in a tri-fold jacket, with stunning new artwork and original film stills.
Tracklist:

1. Logo / The Matrix Main Title
2. Trinity Infinity
3. Neo Con Brio
4. Follow the White Rabbit
5. Neo on the Edge
6. Through the Surveillance Monitor
7. Unable to Speak
8. Bait and Switch
9. Switched for Life
10. Switched at Birth
11. Switches Brew
12. Cold Hearted Switch
13. Nascent Nauseous Neo
14. A Morpheus Moment
15. Bow Whisk Orchestra
16. Domo Showdown
17. Switch or Break Show
18. Shake, Borrow, Switch
19. Switch Works Her Boa
20. Bring Me Dinner
21. The System
22. Freeze Face
23. Switch Woks Her Boar
24. Cypher Cybernetic
25. Ignorance is Bliss / Cyber Cyphernetic
26. See Who?
27. Switch Out
28. Boon Spoy
29. Oracle Cookies
30. Threat Mix
31. Exit Mr. Hat
32. On Your Knees, Switch
33. Mix the Art
34. Whoa, Switch Brokers
35. The Cure
36. It's the Smell
37. The Lobby
38. No More Spoons
39. Dodge This
40. Fast Learning
41. Ontological Shock
42. That's Gotta Hurt
43. Surprise
44. He's the One Alright
About this product: this release is pressed on 3x black vinyl, housed in deluxe tri-fold jacket with an OBI strip.