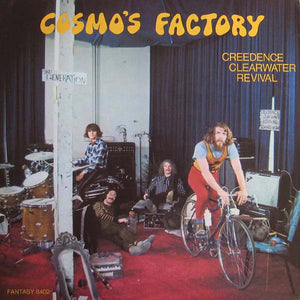 Creedence Clearwater Revival - Cosmo's Factory LP
Tax included.
Shipping
calculated at checkout.
---
---
This is the fifth album from the legendary Creedence Clearwater Revival. The band had an incredible streak with all their previous full-lengths, and returned to smash the singles and album charts again with "Cosmo's Factory".

From beginning to end, John Fogerty's songwriting is untouchable and so incredibly on the mark for the different moods each track portrays.
Opener Ramble Tamble starts off as a jaunty celebration track, but morphs into a different creature during the bridge/solo, a hard-hitting soundtrack to time and the irrelevancy of it all. Then there's the infamous Lookin' Out My Back Door that will never fail to bring a smile to your face (at least for me - Rich).
You also get the sombre Who'll Stop The Rain, a romantic expression and yearning for better days to come, and of course the incredible cover of Gaye's I Heard It Through the Grapevine, keeping the soul of the original while the signature CCR sound oozes throughout.
Like most of its predecessors, "Cosmo's Factory" is hit after hit after hit - a bucket list album for sure.
Tracklist:
1. Ramble Tamble
2. Before You Accuse Me
3. Travelin' Band
4. Ooby Dooby
5. Lookin' Out My Back Door
6. Run Through the Jungle
7. Up Around the Bend
8. My Baby Left Me
9. Who'll Stop the Rain
10. I Heard It Through the Grapevine [Marvin Gaye cover]
11. Long As the Day Is Long
About this product: this reissue is pressed on 180g black vinyl.