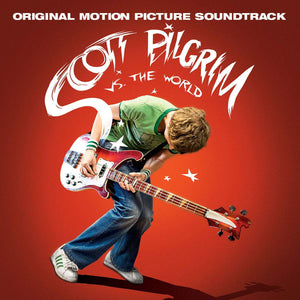 Various Artists - Scott Pilgrim vs. The World (Ramona Flowers Edition) LP
Tax included.
Shipping
calculated at checkout.
---
---
RELEASES ON THE 11/6/21
This year marks the tenth anniversary of the theatrical release of Universal Pictures' Scott Pilgrim vs. the World.
The film adaptation by director Edgar Wright (Hot Fuzz, Baby Driver) of Bryan Lee O'Malley's graphic novel series stars Michael Cera, Mary Elizabeth Winstead and Kieran Culkin and has since become a cult classic due in no small part to the use of music in its storytelling.
The soundtrack album and score were originally released in 2010.
Tracklist:
1. We Are Sex Bob-Omb [Sex Bob-Omb]
2. Scott Pilgrim [Plumtree]
3. I Heard Ramona Sing [Frank Black]
4. By Your Side [Beachwood Sparks]
5. O Katrina! [Black Lips]
6. I'm So Sad, So Very, Very, Sad [Crash and the Boys]
7. We Hate You Please Die [Crash and the Boys]
8. Garbage Truck [Sex Bob-Omb]
9. Teenage Dream [T-Rex]
10. Sleazy Bed Track [The Bluetones]
11. It's Getting Boring by the Sea [Blood Red Shoes]
12. Black Sheep [Metric]
13. Threshold [Sex Bob-Omb]
14. Anthems for a Seventeen Year-Old Girl [Broken Social Scene]
15. Under My Thumb [The Rolling Stones]
16. Ramona (Acoustic Version) [Beck]
17. Ramona [Beck]
18. Summertime [Sex Bob-Omb]
19. Threshold (8 Bit) [Brian LeBarton]
About this product: this is pressed on coloured vinyl - either pink, green or blue - but are randomly packed.