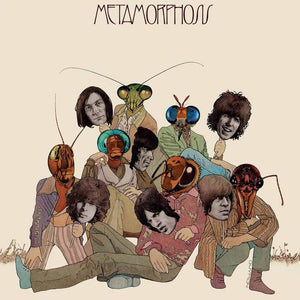 The Rolling Stones - Metamorphosis LP
Tax included.
Shipping
calculated at checkout.
---
---
The first official Rolling Stones' rarities collection originally released in June 1975 to try and outwit bootleggers.
The release combines some legendary out-takes and rarities as well as focusing on the wealth of demos that Jagger & Richards composed for other artists (produced by Andrew Loog Oldham or Jimmy Miller). Some of these tracks were subsequently re-recorded by the Stones themselves, as these versions largely featured session musicians like Big Jim Sullivan on guitar, Clem Cattini on drums, and Jimmy Page on guitar.
The collection starts with an orchestrated version of Out of Time, featuring Jagger singing over the same backing track used for Chris Farlowe's 1966 version that would later give Chris Farlowe a U.K. number one hit. Out of Time was released by The Rolling Stones as a single in 1975, and most recently was featured in Quentin Tarantino's "Once Upon a Time In Hollywood". Metamorphosis features a terrific version of Memo From Turner, a 1964 Chess studio out-take Don't Lie to Me is a stellar Chuck Berry cover, while Family, the rocking Jiving Sister Fanny, Bill Wyman's Downtown Suzie and a version of Stevie Wonder's I Don't Know Why are out-takes from two of the Stones' finest-ever albums, "Beggars Banquet" and "Let It Bleed".
Also included – Each and Every Day of the Year (covered by Bobby Jameson), I'd Much Rather Be With the Boys (by obscure British beat group The Toggery Five), Some Things Just Stick in Your Mind (Vashti Bunyan), (Walkin' Through The) Sleepy City (the Mighty Avengers) and We're Wastin' Time (Jimmy Tarbuck).
Released exclusively on 180g 'Hunter Green' vinyl. Includes exclusive iron-on t-shirt transfer of the sleeve design, which alludes to Franz Kafka's "The Metamorphosis" (the story of a man who wakes up one morning to find himself inexplicably transformed into a huge insect).
This release replicates the U.K. version, with two extra songs, Some Things Just Stick In Your Mind and We're Wastin' Time that were not on the original U.S. release.
Tracklist:
1. Out of Time
2. Don't Lie to Me
3. Some Things Just Stick in Your Mind
4. Each and Every Day of the Year
5. Heart of Stone
6. I'd Much Rather be with the Boys
7. (Walkin' Thru the) Sleepy City
8. We're Wastin' Time
9. Try a Little Harder
10. I Don't Know Why
11. If You Let Me
12. Jiving Sister Fanny
13. Downtown Suzie
14. Family
15. Memo from Turner
16. I'm Going Down
About this product: this is the Record Store Day '20 reissue on 180g green vinyl.