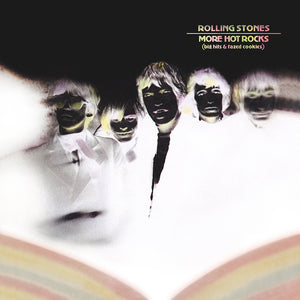 The Rolling Stones - More Hot Rocks (Big Hits & Fazed Cookies) 2LP
Tax included.
Shipping
calculated at checkout.
---
---
"More Hot Rocks (Big Hits & Fazed Cookies)" offers hits, some of the best deeper cuts, and a whole LP side's worth of rarities that hadn't yet been available in the United States when this compilation was first released.
Originally released in 1972, this indispensable 25-track, collection features Not Fade Away, It's All Over Now, The Last Time, Lady Jane, Dandelion, She's a Rainbow, Have You Seen Your Mother Baby, Standing in the Shadow?, Out of Time, Tell Me and We Love You. The rarities include their 1963 debut single Come On, early R&B covers of Fortune Teller and Bye Bye Johnnie, great slide guitar on Muddy Waters' I Can't Be Satisfied, (recorded at Chess Studios and in stereo here) and the soulful 1966 U.K. B-side Long Long While. Also included is the stereo version of the psychedelic non-LP B-side Child Of The Moon, previous to the 1972 release, was only heard in mono. This iconic collection is a must-have release by the 'world's greatest rock and roll band...'
50th anniversary edition of a classic compilation. Original gatefold art / printed inner bags. Exclusive coloured vinyl. Embossed litho prints - photos by Gered Mankowitz. Remastered by Bob Ludwig / cut at Abbey Road Exclusive limited edition package for Record Store Day - celebrating the 50th anniversary of this landmark double album release. Original gatefold art and full-colour printed inner bags.
Tracklist:
1. Tell Me
2. Not Fade Away
3. The Last Time
4. It's All Over Now
5. Good Times Bad Times
6. I'm Free
7. Out of Time
8. Lady Jane
9. Sittin' on a Fence
10. Have You Seen Your Mother, Baby, Standing In the Shadow?
11. Dandelion
12. We Love You
13. She's a Rainbow
14. 2000 Light Years from Home
15. Child of the Moon
16. No Expectations
17. Let It Bleed
18. What to Do
19. Money
20. Come On
21. Fortune Teller
22. Poison Ivy
23. Bye Bye Johnny
24. I Can't Be Satisfied
25. Long Long While
About this product: this is the Record Store Day '22 release on 2x 180g glow in the dark vinyl.