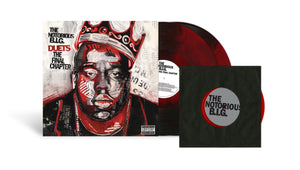 The Notorious B.I.G. - Biggie Duets: The Final Chapter 2LP+7"
Tax included.
Shipping
calculated at checkout.
---
---
"Biggie Duets: The Final Chapter" is the second posthumous album from The Notorious B.I.G, featuring a collection of orchestrated duets between Biggie and hip-hop heavyweights including Jay-Z, Faith Evans, Missy Elliot, Nas, Snoop Dogg, Ludacris, P Diddy, Eminem and many more.
The album – which is platinum certified in the USA – will be made available on vinyl for the first time since its original release in 2005, pressed on red and black LPs and accompanied by a 7" showcasing two previous unreleased bonus cuts, exclusively for Record Store Day 2021.
Tracklist:
- BIGGIE DUETS: THE FINAL CHAPTER -
1. B.I.G. Live in Jamaica (Intro)
2. It Has Been Said [feat. Diddy, Eminem and Obie Trice]
3. Spit Your Game [feat. Twista and Bone Thugs N Harmony]
4. Whatchu Want [feat. Jay-Z]
5. Get Your Grind On [feat. Big Pun, Fat Joe and Freeway]
6. Living the Life [feat. Snoop Dogg, Ludacris, Faith Evans, Cheri Dennis and Bobby Valentino]
7. The Greatest Rapper (Interlude)
8. 1970 Somethin' [feat. The Game and Faith Evans]
9. Nasty Girl [feat. Diddy, Nelly, Jagged Edge and Avery Storm]
10. Living in Pain [feat. 2pac, Mary J. Blige and Nas]
11. I'm with Whateva [feat. Lil' Wayne, Juelz Santana and Jim Jones]
12. Beef [feat. Mobb Deep]
13. My Dad (Interlude)
14. Hustler's Story [feat. Scarface, Akon and Big Gee]
15. Breakin' Old Habits [feat. T.I. and Slim Thug]
16. Ultimate Rush [feat. Missy Elliott]
17. Mi Casa [feat. R Kelly and Charlie Wilson]
18. Little Homie (Interlude)
19. Hold Ya Head [feat. Bob Marley]
20. Just a Memory [feat. The Clipse]
21. Wake Up [KoRn cover, feat. KoRn]
22. Love is Everlasting (Outro)
- 7" -
1. Want That Old Thing Back [feat. Ja Rule]
2. Running Your Mouth [feat. Busta Rhymes, Fabolous, Foxy Brown, Nate Dogg and Snoop Dogg]
About this product: this is the Record Store Day '21 release on 2x red/black swirl vinyl. Includes a bonus 7" on transparent red vinyl.