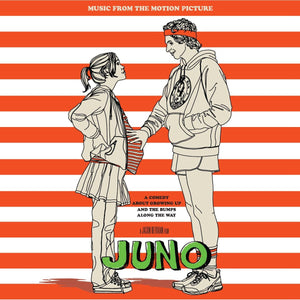 Various Artists - Juno (OST) LP
Tax included.
Shipping
calculated at checkout.
---
---
The soundtrack to Oscar winning movie Juno is well known for its indie rock theme, featuring artists such as The Kinks, Belle & Sebastian, Sonic Youth, Mott The Hoople, The Velvet Underground and Cat Power amongst others.

The soundtrack – which was certified platinum in the US – has not been available on LP since the original pressing in 2007.
Tracklist:
1. All I Want Is You [Barry Louis Polisar]
2. My Rollercoaster (Juno Film Version) [Kimya Dawson]
3. A Well Respected Man [The Kinks]
4. Dearest [Buddy Holly]
5. Up the Spout [Mateo Messina]
6. Tire Swing [Kimya Dawson]
7. Piazza, New York Catcher [Belle & Sebastian]
8. Loose Lips [Kimya Dawson]
9. Superstar [Sonic Youth]
10. Sleep (Instrumental) [Kimya Dawson]
11. Expectations [Belle & Sebastian]
12. All the Young Dudes [Mott The Hoople]
13. So Nice So Smart [Kimya Dawson]
14. Sea of Love [Cat Power]
15. Tree Hugger [Kimya Dawson & Antsy Pants]
16. I'm Sticking With You [The Velvet Underground]
17. Anyone Else But You [The Moldy Peaches]
18. Vampire [Antsy Pants]
19. Anyone Else But You [Michael Cera & Elliot Page]
About this product: this reissue is pressed on neon green vinyl.