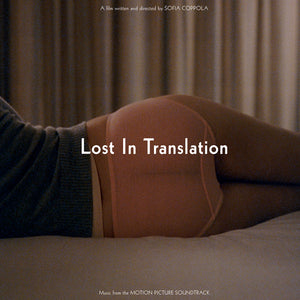 Various Artists - Lost In Translation (OST) LP
Tax included.
Shipping
calculated at checkout.
---
---
Back in print for "Lost in Translation: Music from the Motion Picture Soundtrack", the soundtrack album to the 2003 film Lost in Translation, directed by Sofia Coppola.

The soundtrack was supervised by Brian Reitzell and was released on September 9, 2003, through Emperor Norton Records and then for RSD2019. It contains five songs by Kevin Shields, including one from his group My Bloody Valentine. Other artists featured on the soundtrack include Air, Death in Vegas, Squarepusher, Phoenix and the Jesus and Mary Chain.
Tracklist:
1. Intro / Tokyo
2. City Girl [Kevin Shields]
3. Shibuya [Brian Reitzell & Roger J. Manning Jr.]
4. Fantino [Sebastian Tellier]
5. Goodbye [Kevin Shields]
6. Girls [Death In Vegas]
7. Tommib [Squarepusher]
8. Too Young [Phoenix]
9. Kaze Wa Atsumete [Happy End]
10. On the Subway [Brian Reitzell & Roger J. Manning Jr.]
11. Ikebana [Kevin Shields]
12. Sometimes [My Bloody Valentine]
13. Alone in Kyoto [Air]
14. Are You Awake? [Kevin Shields]
15. Just Like Honey [The Jesus & Mary Chain]
About this product: this reissue is pressed on black vinyl.