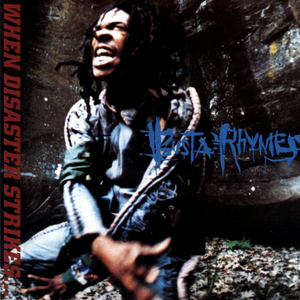 Busta Rhymes - When Disaster Strikes… (25th Anniversary) 2LP
Tax included.
Shipping
calculated at checkout.
---
---
By the time Busta Rhymes hit with his second solo album, "When Disaster Strikes", he was already cemented as one of the most powerful voices in the rap game. With a lead single that countered that statement Put Your Hands Where MY Eyes Can See he proved he is more than just a one act man. The single was an immediate smash and was followed by an equally amazing album. The albums second single Dangerous continued to push Busta creatively and was accompanied with a stellar video gained him major air play on BET and MTV.

Critics and fans alike applauded this release for its depth and well-crafted songs which made it platinum at the time of its release. Songs like Turn Up the Flipmode assisted We Could Take it Outside and Rhymes Galore showcase Busta at his best; rapid fire delivery over hard pounding beats. Other stand out cuts include So Hardcore and One which is a great collaboration with Erykah Badu. On the production side Busta brings along his trusted team; Rashad Smith, Dilla, Rockwilder and DJ Scratch to serve him just what he needed for "When Disaster Strikes" to be full on dope!
Tracklist:
1. Intro
2. The Whole World Lookin' at Me
3. Survival Hungry
4. When Disaster Strikes
5. So Hardcore
6. Get High Tonight
7. Turn It Up
8. Put Your Hands Where My Eyes Could See
9. There's Not a Problem My Squad Can't Fix [feat. Jamal]
10. We Could Take It Outside [feat. The Flipmode Squad]
11. Rhymes Galore
12. Things We Be Doing for Money Part 1
13. Things We Be Doing for Money Part 2 [feat. Rampage, Anthony Hamilton & The Chosen Generation]
14. One [feat. Erykah Badu]
15. Dangerous
16. The Body Rock [feat. Rampage, Sean "Puffy" Combs & Mase]
17. Get Off My Block [feat. Lord Have Mercy]
18. Outro (Prepared for the Final World Front)
About this product: this reissue is pressed on 2x silver vinyl.