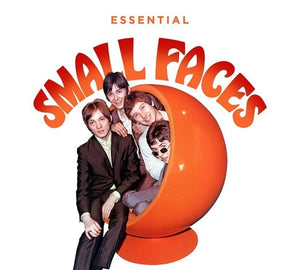 Small Faces - Essential Small Faces 3CD
Tax included.
Shipping
calculated at checkout.
---
---
Formed in London in 1965 their name, Small Faces was particularly appropriate. All were mods, for whom the term 'face' meant someone to check out for what they were wearing, listening to, reading etc. It was Marriott and Lane's penned All Or Nothing in August '66 that proved the game changer, reaching the UK No.1 spot that autumn.

Over the next two years they would rarely be away from the singles and album charts. Single hits included My Mind's Eye (UK No.4), Itchycoo Park (UK No.3), Lazy Sunday (UK No.2) and Tin Soldier (UK No.9) whilst their debut long player for Decca hit No.3 in the album charts, the official follow-up for Immediate (No.12) and the subsequent Ogden's Nut Gone Flake (the No.1 spot in the summer of 1968).
On the surface things couldn't have been better as 1968 played out but pressures within the band had been building for some time and after a New Year's Eve show Marriott quit and subsequently went on to form Humble Pie. Lane, McLagan and drummer Kenney Jones would subsequently join forces with Rod Stewart and Ronnie Wood and become The Faces.
Kenney Jones is sadly now the only surviving member of the band. He still occasionally plays with Rod and Ronnie in the Faces and has kindly contributed to both the track listing and artwork for this release. You'll find all the Small Faces singles together with key album tracks and rarities across the 3CDs.