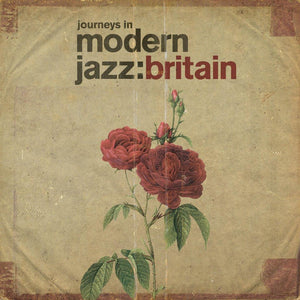 Various Artists - Journeys In Modern Jazz: Britain (1961-1973) 2CD/2LP
Tax included.
Shipping
calculated at checkout.
---
---
A deep dive into the one of most collectable jazz catalogues in the world, a selection of some of the rarest and most sought-after recordings from the 60s and 70s, a time when British jazz began to find its own identity.

Drawn from the iconic labels of Decca, Deram, Argo, EMI Columbia / Lansdowne Series, Fontana, Mercury, and Philips.
Tracklist:
1. Don the Dreamer [Ken Wheeler and the John Dankworth Orchestra]
2. A Matter of Time [Don Rendell Quintet]
3. Brew [Collin Bates Trio]
4. With Terry's Help [John Surman, John Warren]
5. Second Coming [Michael Garrick Sextet]
6. Waltz (for Joanna) [Mike Westbrook Concert Band]
7. Matinee Days [Stan Tracey and His Big Band]
8. Third Road [Harry Beckett]
9. Greek Variations: VI Kriti (Edit) [Neil Ardley, Ian Carr, Don Rendell]
10. Angle [The New Jazz Orchestra]
11. Old San Juan [Alan Skidmore Quintet]
12. Storm Warning [Dick Morrissey Quartet]
13. To Segovia [Mike Taylor Quartet]
14. Some Echoes, Some Shadows [Michael Gibbs]
About this product: this is available on 2CD and 2LP formats.
The 2CD comes in a hardcover book and includes an essay.
The 2LP is pressed on 180g black vinyl and includes a 16x16" insert, essay and download code.