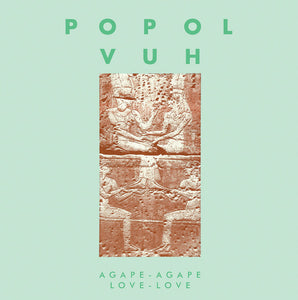 Popol Vuh - Agape-Agape Love-Love LP
Tax included.
Shipping
calculated at checkout.
---
---
Popol Vuh regularly contributed soundtracks to the films of Werner Herzog that include classics like Aguirre, Nosferatu, Heart Of Glass and Cobra Verde. "Agape-Love" was one of Florian Fricke's favourites, at a point in his life where he was inspired by 13th century Persian poet Rumi.

Still utilizing a choir for Gregorian chant-like ethereal intensity - though they sing in Byzantine scales - the band delves deeply into the drone world of Fricke's sacred music muse. This is an album of many moods / feelings and is a worthy, devastatingly beautiful outing (both introspective and intense at the same time).
Born as Florian Fricke's brainchild, Popol Vuh needs little introduction, the band stayed active between the late 1960s and late 1990s (until Florian's passing in 2001). Regarded as pioneers in avant-garde German electronic music, their early works practically laid down the foundations for 'Kosmische Muzik' (Space Music) with the then new sounds of the Moog synthesizer joined with ethnic percussions. Later the group evolved to include all kinds of instruments (both electric and acoustic alike) shrouding their music in a spiritual and introspective mystical aura.
Popol Vuh influenced many other European bands with their uniquely soft but elaborate instrumentation, which took inspiration from the music of Tibet, Africa and pre-Columbian America. With music sometimes described as 'ethereal', they created soundscapes through psychedelic walls of sound, and are regarded as precursors of contemporary 'world music', as well as of 'new age' and 'ambient'.
Tracklist:
1. Hand in Hand
2. They Danced, They Laughed, as of Old
3. Love, Life, Death
4. The Christ Is Near
5. Love-Love
6. Behold, the Drover Summonds
7. Agape-Agape
8. Why Do I Still Sleep
9. Circle Dance (Bonus Track)
About this product: this release is pressed on black vinyl.