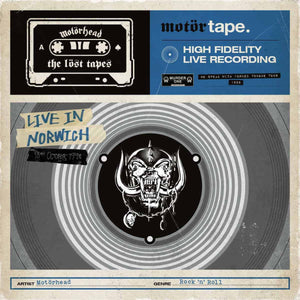 Motörhead - The Lost Tapes Vol.2 2LP
Tax included.
Shipping
calculated at checkout.
---
---
Cassette tapes. Remember those? Those things with the dual spools and loads of wide brown plastic recording string that'd occasionally unravel and hang out of the shell, requiring a pencil and firm wrist to spin back into place? Yeah, well, once upon a time, old-school sound systems contained cassette decks for the express purpose of recording shows, and these "cassette" things were a standard part of every tour.
Motörhead were certainly no exception, recording show after show. They contain gold, pure aural gold, and had for many years sat hundreds of feet underground in a small cave Lemmy owned, guarded by small, hairy centurions in Roman armour with small spears and bad attitudes. Only the magic password would release them, and thankfully, Lem had scribbled it down and left it inside an old sketch book for us (no, we won't tell you the password, although it did have the words 'nie nie nie' in it).
There were loads of the dirty, dusty, greasy little buggers gathered, with the likes of Lyon, Liverpool, Hamburg and Chippenham (!!) scrawled in biro on the tiny labels alongside a date…and thus we are delighted to announce that this unique collection of live gems will now be heard by the world, via carefully digitized transfers, in a new series titled The Löst Tapes.
Volume Two has been hand-picked by the increasingly deaf, but well-meaning (and hydrated!) Motörhead team, along with surviving members Phil Campbell and Mikkey Dee, and sees the trio in blistering form on the "Snake Bite Love" album tour recorded at the University of East Anglia, Norwich on 18th October 1998.
About this product: this is the Record Store Day '22 release on 2x blue vinyl.