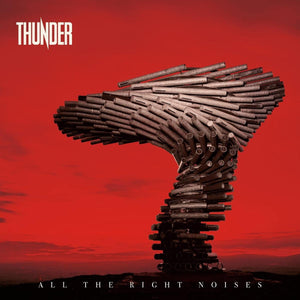 Thunder - All The Right Noises 2CD+DVD
Tax included.
Shipping
calculated at checkout.
---
---
British hard-rock heroes, Thunder, release their 13th studio album "All The Right Noises".

The album is a return to the full-throttle sound of Thunder that has seen them create a hugely successful 30+ year career at the forefront of British rock, all built around the lifelong friendship of vocalist extraordinaire Danny Bowes and songwriting genius and guitarist Luke Morley.
"All The Right Noises" is an intense confection of illicit charms that reasserts their authority as the number one band in the land. Recorded in the months leading up to the first Covid-19 lockdown, it was originally due for release in September 2020. Strange to reflect then on how much of the new material appears to address the challenging new world we now inhabit.
On the album, Luke says " All the songs were written and recorded pre-Covid. But it is interesting how if you look at some of the tracks through the prism of Covid they still make a lot of sense."
The volcanic lead single from the album, Last One Out Turn Off the Lights could easily be mistaken for world-ending lockdown rage. But, says Luke, "That was directly about Brexit, but you could apply it to everything else." The track is indicative of both the ferocity and message of the album as a whole, with subjects tackled including depression, mental health and diversity.