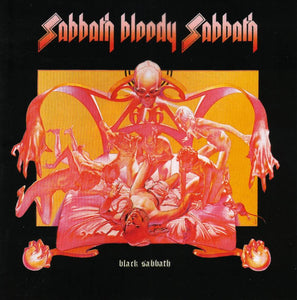 Black Sabbath - Sabbath Bloody Sabbath CD/LP
Tax included.
Shipping
calculated at checkout.
---
---
Upon its release in '73, "Sabbath Bloody Sabbath" began achieving a feat that had, for the previous four albums and three years, eluded the Birmingham metal maestros. It started getting good reviews. Until then, the music critics had not warmed to the bare, brutal honesty of Black Sabbath's music, not least Rolling Stone critic Lester Bangs, who had described the band's debut 'Black Sabbath' as "just like Cream. But worse!" 

The album reached number 4 in the UK charts and 11 in the US charts, where it would go on to achieve platinum sales success. From the grinding riff of the opening title track, the album showed that despite the band pushing back musical boundaries, they'd lost none of their aggression.
A National Acrobat and Sabbra Cadabra (the latter, which featured Yes keyboard player Rick Wakeman, and famously covered by Metallica a quarter of a century later) were equally heavy, imposing tracks, whilst Killing Yourself to Live and the sci-fi themed Spiral Architect rate as some of the band's best tracks. and even if the excellent title track was curiously rarely featured in the band's live set at the time, the gentle acoustic guitar work of Fluff can still be heard as fans file out of Black Sabbath gigs the world over.
Little wonder some claim Sabbath Bloody Sabbath is the greatest album that the 'classic' line-up recorded. This is an album that oozes class from start to finish.

Tracklist:
1. Sabbath Bloody Sabbath
2. A National Acrobat
3. Fluff
4. Sabbra Cadabra
5. Killing Yourself to Live
6. Who Are You?
7. Looking For Today
8. Spiral Architect
About this product: this reissue is available on CD and LP formats.
The CD is housed in digipack.
The LP is pressed on 180g black vinyl.