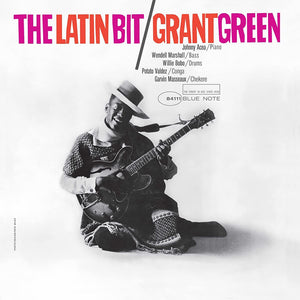 Grant Green - The Latin Bit LP
Tax included.
Shipping
calculated at checkout.
---
---
Grant Green, being known mainly as a soul jazz guitarist, eventually gravitated into the popular boogaloo sound. "The Latin Bit" is the natural bridge to that next phase, though a bit premature for most in 1961-1963, even relative to the subsequent bossa nova craze.

Pianist Johnny Acea, long an underrated jazzman, is the nucleus of this session, grounding it with witty chops, chordal comping, and rhythmic meat. The Latino rhythm section of drummer Willie Bobo and conga player Carlos "Patato" Valdes personify authentic, seasoned spice, while at times the chekere sound of Garvin Masseaux makes the soup too thick.
At its collective best, the group presents a steady, serene, and steamy Besame Mucho and the patient, slow, slinky, sultry Tico Tico. Just a small step below is a classy take on Charlie Parker's My Little Suede Shoes, a premier jazz bebop (emphasis) tune with a Latin undertow and Green's tiniest staccato phrases, slightly marred by the overbearing constant chekere, but still classic. Mama Inez ranks high for its calypso-infused happy feeling and wry stop-start lines. The straight-ahead hard bopper Brazil and lone soul-jazz tune, Blues for Juanita, display the single-note acumen that made Green's style instantly recognizable.
Blue Note Records' Tone Poet Audiophile Vinyl Reissue Series is produced by Joe Harley and features all-analog, mastered-from-the-original-master-tapes, 180g audiophile vinyl reissues in deluxe packaging.
Mastering is by Kevin Gray (Cohearent Audio) and vinyl is manufactured at Record Technology Incorporated (RTI).
Tracklist:
1. Mambo Inn
2. Bésame Mucho
3. Mama Inez
4. Brazil
5. Tico Tico
6. My Little Suede Shoes
7. Blues for Juanita
About this product: this reissue is pressed on 180g black vinyl, housed in deluxe packaging.