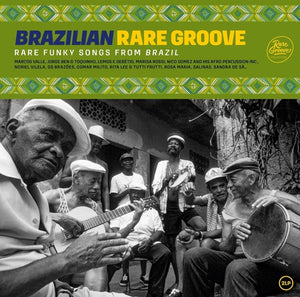 Various Artists - Brazilian Rare Groove 2LP
Tax included.
Shipping
calculated at checkout.
---
---
Discover the wonders of Brazilian music from 60s, 70s & 80s. A wave of modernity invades the country and Soul, Funk & Disco influences merge with traditional genres such as Bossa Nova, Samba or Batucada.

This union led to a colourful and cheerful groove symbolizing the transformation of Brazil.
Tracklist:
1. Agora E Moda [Rita Lee & Tutti Frutti]
2. Carol Bela [Jorge Ben & Toquinho Carolina]
3. Deixa Nao Deixa [Rosa Maria]
4. Swinga Sambaby [Trio Mocoto]
5. Trem da Central [Sandra De Sà]
6. Volkswagen Blue [Os Brazões Volks]
7. Xica da Silva [Myriam Makeba]
9. Bossa Nova Em Nova York [Lalo Schifrin]
10. Nebulosa [Tenorio Jr]
11. Brazil [Grant Green]
12. Renda Ze [Tom Zé Jimmy]
13. 16 Toneladas (16 Tons) [Noriel Vilela]
14. Deixa Eu Te Amar [Marisa Rossi]
15. Vale Tudo [Sandra De Sà]
16. Morro do Barraco Sem Água [Lemos e Debétio]
17. Naturalmente [Marcos Valle]
18. Eu E O Meu Amor [Antônio Carlos Jobim & Roberto Paiva]
19. Um Lindo Dia Vai Nascer [Salinas Tenha Fé, Pois Amanhã]
20. Morre o Burro, Fica o Homem [Osmar Milito]
21. Lupita [Nico Gomez And His Afro Percussion Inc.]
22. 72D [Ze Roberto Lotus]
23. Avenida Atlantica [Rosa Maria]
24. Ta Agora Chega [Super Som]
About this product: this compilation is pressed on 2x black vinyl.