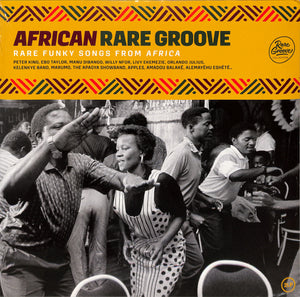 Various Artists - African Rare Groove 2LP
Tax included.
Shipping
calculated at checkout.
---
---
A journey in the heart of Nigerian afrobeat from Orlando Julius to the ethnojazz of Alemayèhu Eshèté passing by the High-life of the Ghanaian Ebo Taylor.

Tracklist:
1. Amponsah [Ebo Taylor]
2. Keleya [Moussa Doumbia]
3. Super Bar Konon Mousso [Amadou Balaké]
4. Pop Kondé [Mangue Kondé & Les 5 Consuls]
5. The Panther [Manu Dibango]
6. Ajo [Peter King]
7. Ayala [Itadi]
8. Khomo Tsaka Deile Kae [Marumo]
9. Mind Twister [Apples]
10. Gone with the Sun [The Wings]
11. Jungle Music [Kelenkye Band]
12. Get Up and Do It Good [Super Elcados]
13. Kwaku Ananse [The Apagya Showband]
14. Get the Funk [Orlando Julius feat. Ashiko]
15. ATemeles [Alemayèhu Eshèté Feat. Hirut Bèqèlè]
16. Friday Night [Livy Ekemezie]
17. Boogie Down in Africa [Willy Nfor]
18. Agboju Logun (Mr Bongo 7" Edit) [Shina Williams & His African Percussionists]
19. Bayeza [Soul Brothers]
20. Oh Yeh Soweto [Teaspoon & The Waves]
About this product: this compilation is pressed on 2x black vinyl.