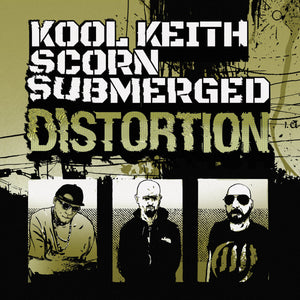 Kool Keith, Scorn and Submerged - Distortion EP
Tax included.
Shipping
calculated at checkout.
---
---
Kool Keith is the most legendary trailblazer of hip hop music. With characters spanning from Dr. Octagon to Tashan Dorsett to Black Elvis to Dr. Dooom, Keith is always delivering realness, spectacles in word and sound, and creating new worlds with his many auras.

Scorn is the electronic beat project of acclaimed ex-Napalm Death drummer Mick Harris, the Dark Lord of ambient dub. Mick Harris' prolific ventures across numerous projects include Painkiller (with John Zorn and Bill Laswell), Quoit, Lull, Monrella, and many more. Submerged is the King of Underground Drum n Bass DJs, having pioneered the scene for the hard sound from Astana to São Paulo to Kiev to Brooklyn. He is the founder of Galactic Enterprise that is Ohm Resistance.
Distortion is a collaborative single with some of the 100% certified dopest Kool Keith verses. He is tuned into his co-authors, dropping lines about 'Power sources, Mediterranean bosses', going '52 states, European, Worldwide', discussing 'more power to explore;, and knowing how to 'stick my hand out the speaker and reach y'all'.
A massive energy lift-off occurs as Keith joins his multiverse with that of the Ohm Resistance artists.
Tracklist:
1. Distortion (Radio Edit 1)
2. Distortion (Scorn Remix)
3. Distortion (Radio Edit 2)
4. Distortion (Submerged Remix)
About this product: this is pressed on 12" black vinyl.