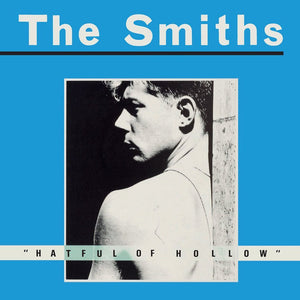 The Smiths - Hatful Of Hollow LP
Tax included.
Shipping
calculated at checkout.
---
---
Several months after releasing their first album, The Smiths issued this collection of singles and rarities, several of which are BBC versions of songs from their debut.

The Smiths treated singles as individual entities, not just ways to promote an album, and therefore many of their finest songs were never issued on their studio albums.

As if this wasn't enough, this compilation contains the first appearance of what may be the band's finest moment. How Soon Is Now? encapsulates everything good about The Smiths; Morrissey's mocking lyrics, Marr's stunning vibrato guitar and a rhythm section you could set your watch to.
Tracklist:
1. William, It was Really Nothing
2. What Difference Does It Make?
3. These Things Take Time
4. This Charming Man
5. How Soon Is Now?
6. Handsome Devil
7. Hand in Glove
8. Still Ill
9. Heaven Knows I'm Miserable Now
10. This Night Has Opened My Eyes
11. You've Got Everything Now
12. Accept Yourself
13. Girl Afraid
14. Back to the Old House
15. Reel Around the Fountain
16. Please Please Please Let Me Get What I Want
About this product: this reissue is pressed on black vinyl, housed in a gatefold sleeve.