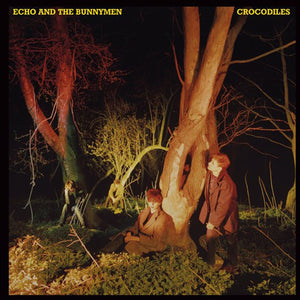 Echo & The Bunnymen - Crocodiles LP
Tax included.
Shipping
calculated at checkout.
---
---
"Crocodiles" was originally released in July 1980 and reached 17 in the UK Charts. The band rose to the fore as part of the vibrant post punk Liverpool scene with the likes of Teardrop Explodes. Their debut gig at the now legendary 'Erics' home of the Cavern Club on Matthew St Liverpool, the cradle of British rock and roll, delivered them onto the scene.

Echo and the Bunnymen were formed in 1979 and originally consisted of Ian McCullough, Will Sergeant and Les Pattinson and a drum machine called Echo. Their debut single Pictures on My Wall was released in July 1979 on the independent Liverpool Zoo Records, The band subsequently signed to WEA subsidiary label Korova. The band toured Britain prior to recording the album in a single 3 week stint at Rockfield with bassist Les Pattinson commenting how he was amazed at the tedium of the recording process. "There was a lot of hanging about. I didn't get all the 'drop-ins' and 'edits' bit. But that naivete was transferred to tape, which is good".
"Crocodiles" was and is a classic debut, one captured in time by Drummond and Balfe: alias being The Chameleons.
Recorded at Eden Studios in London and Rockfield Studios in Monmouth, Wales, "Crocodiles" was produced by Bill Drummond and David Balfe, it is heralded as one of the 'Classic Debut Albums Of All Time'. Ian Broudie had already produced the single Rescue and the albums cover and music both reflect the imagery of darkness and sorrowfulness contained within. This was much lauded at the time with NME describing McCulloughs lyrics as being 'scattered with themes of sorrow, horror and despair, themes that are reinforced by stormy animal/sexual imagery".
Tracklist:
1. Going Up
2. Stars are Stars
3. Pride
4. Monkeys
5. Crocodiles
6. Rescue
7. Villiers Terrace
8. Pictures on My Wall
9. All That Jazz
10. Happy Death Men
About this product: this is the Rocktober '21 reissue on black vinyl.