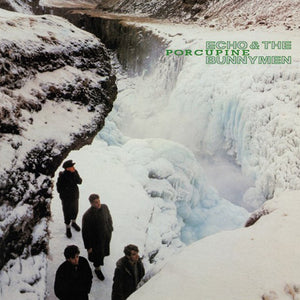 Echo & The Bunnymen - Porcupine LP
Tax included.
Shipping
calculated at checkout.
---
---
"Porcupine" is the third studio album by the band. First released in February 1983, it became the band highest charting release when it reached No2 in the UK charts. Recorded at Trident Studios in London, Rockfield in South Wales and Amazon Studios in Liverpool, the album was produced by Ian Broudie who was credited as 'Kingbird' on the sleeves notes.

With tensions running high within the band, the album got rejected as 'too dark and uncommercial' by Warner Bros, so the band agreed to re-record the album using the original tapes as a blue print. Shankar - who played strings on successful single The Back of Love was brought back in by Drummond to add strings to the remainder of the album to give it a brighter production. It was during these sessions that the next single from the album, The Cutter, was recorded and released in Jan 1983. It became the bands first Top 10 hit.
The result of those re-recordings is a much more refined sound which bridges the gap between "Heaven Up Here" and the next album "Ocean Rain". The main difference being that early rawness, is now replaced by a more lavish and fuller sound provided by the addition of a greater range of strings and percussion. The band were finding their feet musically, a new structure and sophistication was developing, yet still with that air of mystery.
Tracklist:
1. The Cutter
2. Back of Love
3. My White Devil
4. Clay
5. Porcupine
6. Heads Will Roll
7. Ripeness
8. Higher Hell
9. Gods Will Be Gods
10. In Bluer Skies

About this product: this is the Rocktober '21 reissue on black vinyl.