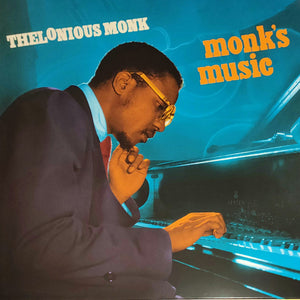 Thelonious Monk - Monk's Music CD
Tax included.
Shipping
calculated at checkout.
---
---
Monk's Music is often cited as one of the focal points of Thelonious Monk's six-year affiliation (1955-1961) with the Riverside label. Although the original disc clocked in at slightly over 30 minutes, packed into that half hour are not only the introduction of a few of Monk's signature compositions, but also some amazing interactions from the assembled ensemble.

Joining Thelonious Monk (piano) during these two recording sessions are Ray Copeland (trumpet), Gigi Gryce (alto sax), Coleman Hawkins (tenor sax), John Coltrane (tenor sax), Wilbur Ware (bass), and Art Blakey (drums).
Tracklist:
1. Abide With Me
2. Well You Needn't
3. Ruby, My Dear [feat. Coleman Hawkins]
4. O Minor
5. Epistrophy
6. Crepuscule with Nellie
7. Ruby, My Dear [feat. John Coltrane]
8. Nu y
9. Trinkle Tinkle
10. Monk's Mood
11. 'round Midnight (1954 Solo Piano Version)
12. 'round Midnight (1947 Quintet Version)
About this product: this CD comes in deluxe digipack.