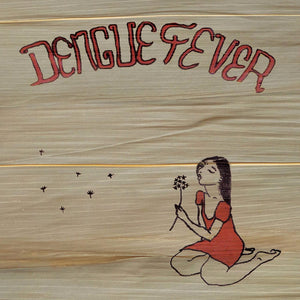 Dengue Fever - Dengue Fever LP
Tax included.
Shipping
calculated at checkout.
---
---
Fronted by amazing vocalist Chhom Nimol, Dengue Fever has surprisingly universal appeal - Chhom herself is already quite accustomed to seizing the hearts of listeners (including the King and Queen of Cambodia), as she comes from a family best considered as a Cambodia pop music dynasty– not unlike a Cambodian version of the Jacksons. The rest of the band is no flake-fest either, consisting of Zac Holtzman (Dieselhed) and his brother Ethan on Farfisa organ, Senon Williams (Radar Brothers), David Ralicke (Beck) and seasoned drummer/ engineer Paul Smith.

Their covers stay remarkably true to the crazy party music spirit of the '60s- and '70s-era originals. But there are also original songs, some of which veer off into the darkened corridors of lost love and ghostly noir romanticism, dissolving sometimes into spaces of genuine bleakness and tragedy — all in the Khmer tongue.
Far from mere novelty or cheap Orientophile thrill, Dengue Fever keeps listeners on their toes, dancing to their way-out tones.
The Deluxe Reissue contains five bonus tracks not available on the original release.
Tracklist:
1. Lost in Laos
2. I'm Sixteen
3. 22 Nights
4. Hold My Hips
5. Flowers
6. Thanks-a-Lot
7. New Year's Eve
8. Ethamopium
9. Glass of Wine
10. Shave Your Beard
11. Pow Pow
12. Connect Four
About this product: this reissue is pressed on red vinyl.