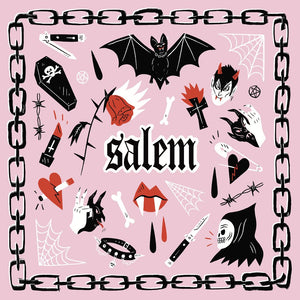 Salem - Salem II EP
Tax included.
Shipping
calculated at checkout.
---
---
As if the ever evolving style and sprawling narratives of Creeper didn't already keep him busy enough, Will Gould reacted to last year's initial lockdown by delving into the archives to complete the debut EP from his side project Salem.

Working alongside his friend and collaborator Matt Reynolds, Salem quickly sold-out the first vinyl pressing of their self-titled debut EP while also earning fresh acclaim and streaming an In The K! Pit show for Kerrang!.
Now the second chapter in the Salem story emerges from the underworld with the news that they'll release their new EP "Salem II" and now share the first taste of the EP in the shape of the new single Draculads.
Draculads opens with the kind of larger-than-life b-movie horror love letter that can only come from Gould's poison pen: 'Maybe the blood of Jesus Christ is laced upon your lips / I get a little closer to God and too drunk each time we kiss.' It sets the tone for a blitzkrieg rush of melodic punk and raucous rock 'n' roll that only stops for breath for the song's cabaret croon breakdown.
Elsewhere, the EP builds upon the style that Salem established with their debut. From the tongue-in-cheek reference to The Smiths on the opening track William, It Was Really Something to the closing Heaven Help Me, Salem play it fast, frenetic and fun.
"Salem II" is an escapist rush of attention that commands your attention for 15 minutes before it's time to drop the needle back to the start.
Tracklist:
1. William, It was Really Something
2. Draculads
3. Keep the Thorns
4. Sweet Tooth
5. Heaven Help Me
About this product: this EP is pressed on 12" 140g vinyl and features an etching on the B-Side.